Products Available from Breault Industrial Group, Inc.
GripStrip® Scaffold Plank
GripStrip® Scaffold Planks have raised the bar when it comes to safety and longevity. We have profiled the surface (top and bottom) of our OSHA and ANSI-compliant planks to provide a traction-surface far safer than even rough-sawn lumber. Additionally, GripStrip® Scaffold Planks are proof-loaded as an extra step in our stringent quality control program, resulting in the safest possible scaffold plank.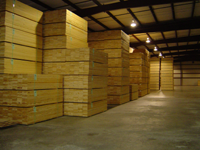 Our manufacturing process starts with the highest fiber-quality, then we remove all necessary defects. Next, we hydraulically press hardened steel pins into the plank ends to stop end splits. All planks are continuously branded from end to end on both sides with your name, the OSHA compliance stamp and manufacture date to protect and confirm your investment, all of which combine to provide you with the safest, longest lasting scaffold plank backed by the best safety rating in the industry - ZERO failures. A safer plank helps reduce costs - make the 'solid choice,' GripStrip® Scaffold Planks.
Know what you and your customers stand on and make sure you're supported by the best scaffold plank in the industry!
Exceeds all OSHA and ANSI requirements
Third party inspected
GripStrip® Scaffold Planks are usable in ALL applications:
Industrial
Commercial
Residential
Petrochemical
Advanced Performance Waterproof End Sealer
Unlike paint our sealer penetrates into the wood fibers resulting in advanced protection against water & UV damage. Our application process allows for exceptionally long lasting beading, waterproofing and elimination and/or reduction of end splits.
Standard & Custom
GripStrip® Scaffold Planks are available in either standard or custom sizes and lengths.
Precision Mitered Corners
Reduces end shear, promotes handling ease and quicker installation.
Hydraulcally Pressed Pins
Polished, heat treated and spiral twist steel pins are pressed into a smaller diameter, precision drilled hole to eliminate and/or reduce end splits.
OSHA Stamp
GripStrip® Scaffold Planks are stamped with the OSHA stamp. Your assurance that our planks meet or exceed OSHA/ANSI standards.
Customer Name
Your company name is continuously embossed into the wood fiber from end to end, then coated with pigmented ink for permanent impregnation.
Proof Loaded
Loaded to published design criteria in a non-destructive manner.
Other Products
Bleacher and Stadium Plank
Plywood
With our vast relationships, we have the ability to supply you with all grades of plywood.
New Metal Scaffold Plank
Contact us for more information of this new development.